yewknee.com - mixes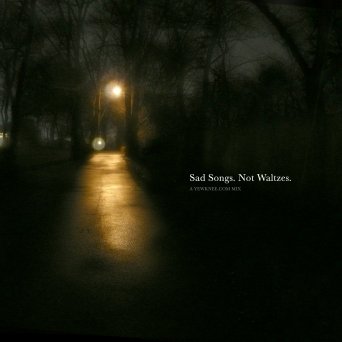 Sad Songs, Not Waltzes
February 18th, 2010
I am, on the whole, not the kind of music listener that is drawn to the overly sad, sullen, morose and, often, overly self-indulgent side of music. I would prefer to listen to an upbeat piece of music or something entirely ambient if given the choice.
But, sometimes, the music fits the mood and it's good to have some quiet, sincere songs to listen to. So, with that in mind, I've put together this mix to accompany the winter nights when it's best to just lie back and do a little bit of nothing at all. Some of the selections may seem a bit trite (Grizzly Bear, really?) but you can't really help what songs speak to you.. so I included them here.
There may be some repeats from previous mixes but, rest assured, they fit in the context of this new mix rather well.
Matt Berry - An Awakening
Telekinesis - Rust
White Denim - You Can't Say
Duncan Browne - Country Song
Richard Swift - Buildings in America
Pseudosix - Enclave
The Frames - Happy
Quasi - No One
Broken Social Scene - Lover's Spit
Jon Brion - Phone Call
Department of Eagles - The Piano In The Bathtub
Blitzen Trapper - 40 Stripes
George Harrison - I Don't Want to Do It (acoustic version)
Grandaddy - Protected From The Rain
Twin Sister - Nectarine
Grizzly Bear - Shift
Duncan Browne - My Old Friends
Phoenix - Playground Love (AIR)
Thee More Shallows - I Can't Get Next To You
Dr. Dog - I Hope There's Love