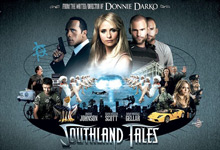 So I watched
Richard Kelly's
Southland Tales
this weekend and it turned out to be pretty much exactly as I
previously
suspected
- not good. I can only imagine the studio pressure to put out something magnificently epic after the sleeper success of Donnie Darko but this is absolutely a case of trying to do way too much at once.
The
casting
looks impressive on paper but in reality it ends up being distracted. Almost every character is played by someone recognizable - even
Cheri Oteri
and
Jon Lovitz
make the cut, as two subversive badasses. Doesn't that sound any alarms for anyone else? Cheri Oteri and Jon Lovitz as mercenary types? Though that's the least of a movies casting problems when The Rock, Sarah Michelle Gellar and Seann William Scott are your lead protagonists (though I will admit, Seann William Scott was quite good for the part). Justin Timberlake, Amy Poehler, Mandy Moore, Nora Dunn, Miranda Richardson (aka poor mans Julianne Moore) and Kevin Smith are also amongst the cast. Impressive on paper, distracting in execution.
But none of that speaks to the plot of the film that was nothing if not entirely ambitious. And by that I mean it was trying to tell a six-part story by delving into parts 4, 5 and 6 with a crap load of narration up front to help catch you up. It's a lot of information to take in for a plotline that's convulted to begin with. Your basic plot points are: 1984 style government security takeover being attacked by subversive Marxist movement, high-profile actor with amnesia attempts to research a role while unknowningly fulfilling a prophechy and a pair of police officers possibly unraveling the fabric of space and time. That's a lot to stuff into 144 minutes. In fact, too much.
In this case I think the movie studios did the right thing by burying this and, hopefully, it will see a quiet DVD release and no one will need speak of it again. My fingers are crossed that the
next
Kelly film will deliver the way Darko did - not with a bang but with a quiet, building initial whisper.