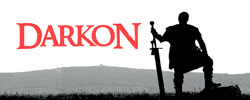 I recently watched the IFC documentary
Darkon
. If you've not heard of this, or don't know what
LARPing
is, you should go and
watch the trailer
immediately. Basically the movie follows a group of LARPers and contrasts their daily lives with the life of their Darkon character. Overall, it's fascinating and I absolutely recommend watching it.
I think what struck me most about the film is that the people involved in the LARPing world keep saying they "don't get to be a hero in the real world" - as if the lives they lead outside of the mythical realm are incapable of making them a worthwhile individual. It's a self perpetuating downward spiral of shame to think that the only way you can achieve greatness in anyones eyes is to wield a foam sword and lead 30 of your friends into faux battle. Maybe the meaning behind the word "hero" has become skewed over the past few years but seems like there could be an easier way to gamble with your self esteem.
So, aside from that little rant, it really is a great film. The Dark Elves are, far and away, the most impressive group of LARPers featured in the film, seemingly taking it to a lifestyle level as opposed to some weekend getaway.